Attention NY-SAFE Officers/Directors, in light of the events going on in the world today over Covid-19. NY-SAFE will be postponing our Spring Meeting which was to be held in Albany, April 3rd and 4th. President Rich Frasco would like to let everyone know that we will be moving the meeting to sometime in the Fall.
Doing this it would accomplish two things:
1) Give us space and time with this virus
2) Moving the meeting to Fall that would also give us more time between meetings. Currently we meet in March/April time then again in May. There is very little to report so close together.
"Hopefully we will all be at the Pub-Ed Conference in May. Tom thank you for the work you have done in setting everything up. We hope there is no issues canceling reservations. Everyone stay safe and well and see you in May."
NY-SAFE President Rich Frasco
Mission Statement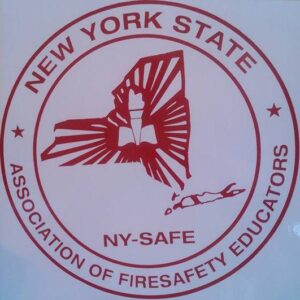 The mission of NYSAFE is to reduce mortality and morbidity to the public through the support of Fire Safety and Life Safety Educators. NYSAFE will provide a forum for the exchange of ideas among educators and those charged with the responsibility of presenting safety programs. NYSAFE will promote continued education and fraternity among the membership as well as all Fire and Life Safety Educators. Education endorsed will include but is not limited to fire safety, life safety, injury prevention, fire prevention, arson prevention and burn prevention.
It is with much pride that we take this time to congratulate NYSAFE'S Treasurer Rick Nemier on being nominated for and being awarded the Syracuse Fire Dept. Henry Boynton award for fire prevention educators. Anyone who knows Rick knows that he has been teaching the children of the,Nedrow area for many years. This past assistant chief is also the committee chairman of NYSAFC pub ed committee. Fire safety education has been a 27 year passion of Rick's. Congratulations on a well deserved award. Rick will recieve the award Oct 11. When you seen thank him for all he does for his community. 2018 dues are due now !!!
Please send your individual or organization membership dues to:
Treasurer
Rick Nemier
102 Merideth Ave.
Nedrow, NY 13120
or
Membership Secretary
Robert Reineke
75 Old Red Mill Rd
Rensselaer, NY 12144
Fall is here, winter and snow will soon follow. Please be aware of children walking to school, and Buses on the streets.
Remember to be fire safe, and when out celebrating, let someone else drive if you are partaking in adult beverages. Remember, it's not only fire calls everyone needs to get home safe from.